The Natural Products Expo West is officially over, which means 3 days of samples, amazing product launches and mindful brands have come together to share their take on how consumers should nourish their bodies. As I promised I scoured through the exposition floors in order to seek out the upcoming trends that you need to know. Take a minute and explore my take on the top 8 trends for 2016.
1. Sustainability
Sustainability has been a buzz word among many industries for the past 5 years as consumers become increasingly aware of our impact on the environment and how to improve. Similarly in the food industry, many restaurants increased their focus on sourcing local, organic ingredients and utilizing every aspect of the ingredient. As a natural progression, food manufacturers are taking note and looking for ways to use every part of their ingredients in order to eliminate waste.
Kimchi companies such as, Farmhouse Cultures, and Not Your Mother's Kimchi have taken their classic fermented products and created a sustainable new way of offering the same probiotic benefits in a drinkable form. They have bottled the excess probiotic-rich fermenting liquid so that you can drink your way to gut health with one simple shot.
The sustainable transformations didn't stop there, Forager Project, traditionally a pressed juice company launched 4 flavors of vegetable tortilla chips. You may be thinking, 'vegetable chips aren't new' but Foragers' method for utilizing their ingredients stole the show. They have created each of their 4 flavors from the excess vegetable pulp that is created during the cold-pressing process. By utilizing the pulp they have transformed their waste into a delicious, crunchy and nutritious snack.
2. Algae
No longer scum of the sea, algae is making a debut as a nutritious superfood that adds an earthy, savory flavor to many products hitting the market. Spirulina and chlorella seem to be the buzz worthy algae for manufacturers due to their milder taste and vibrant color. These algae are packed with vitamins, minerals and protein that are easily absorbed by your body. Not only do they work to nourish our bodies they also aid the detoxing process by improving gut health and vitamin absorption. From protein bars, tortilla chips, popcorn and chocolate bars algae brings a new twist to snacking your way to health.
Find out more about algea such as spirulina and take part in The Fresh Challenge!
3. Spice is still King
Last year companies rolled out exotic spices and flavors to pump up the heat in their products and this year was no different. As the sriracha obsession continues to grow and our curiosity with all things painfully delicious, spice continues to be the focus of natural food companies. From jalepeno, habanero and sriracha EVERYTHING, I hope you have a glass of milk handy (non-dairy of course) because things are about to get hot in here.
4. Gut Health
From probiotics, prebiotics and fermented food and drinks its all about the gut. Due to decades of consuming highly processed and nutritionally impaired foods the health of the micro biome in our gut has diminished, increasing dietary inflammations, sickness and poor absorption of nutrients. Thankfully natural food companies have taken note and found various ways to add live cultures and healthy bacteria back into our diet.
Kimchi and sauerkraut still have their moment in the spotlight at this years show, companies such as Wildbrine and Farmhouse Cultures are serving up new flavor combinations and 'gut' shots from the fermenting liquid.
Kombucha is the new pressed juice… walking down the aisles of the expo it was impossible to miss a kombucha company that was launching new flavors or a new formula. As a huge kombucha fan (I kind of live on the stuff) it was exciting yet overwhelming. With so many options how are you supposed to pick the best kombucha brand?! I think for now you have to go with your gut [ ;) ]. The smells and flavor of kombucha can be off putting for some, so switch it up and try different brands to see which one fits your palate. Health-Aid and GT's are my go to's all of their flavors are delicious and they have really improved my gut health.
Suja Juice is getting on the probiotic bandwagon with the launch of their new probiotic waters in 4 light and refreshing flavors. Each flavor is made of a blend of vegan probiotic cultures and cold-pressed fruits each flavor was delicious but Ginger Lime gets my vote for best pick.
Now we have all heard of probiotics in fermented kimchi, kombucha and supplements but I know the sour, feet-smelling can be hard to get on board with. But don't worry, YumButter is mixing up the gut health scene with an approachable almond butter protein + probiotic blend. The almond butter is delicious, easy to spread and contains 10g of protein per severing! It is the perfect way to sneak probiotics into your day without the, "you'll get used to it," encouragement.
5. The Super Take-over
For those that know me, you know I'm all about superfoods… pretty obsessed. But apparently I'm not the only one, manufacturers are putting superfoods in just about everything! From power bars, crackers, popcorn, chocolate and beverages, 'superfood' was the buzz word of the Natural Expo this year. Now what is a superfood?! It is any whole food that is naturally nutrient dense aka it packs a big nutrient punch in a little package. Adding superfoods to everyday meals or snacks is a simple way to increase your daily vitamin, mineral, protein or omega-3 fix and companies like Larabar, Natives, Activate Living Foods, MamaChia and Hemp Hearts are taking note. Although they are all amazing, the superstars this year were chia seeds, hemp seed, goji berries, maca root, cocao, turmeric and ginger. Not only will these products fill your nutrient voids, they also taste too good to be true. So, get ready for the newest superheros on the block because they are here to stay.
6. Got (non-dairy) Milk?
Milk is a huge part of our life, whether we believe it or not. Cereal, pastries, cheese, ice cream, coffee, yogurt, sauces, frozen yogurt, batters, butter… ok you get it, without even blinking an eye you easily have 2 servings of dairy at every meal! However, with the overwhelming consumer shift towards sustainable, ethical and nutritional foods there is a need to find a better alternative. Almond milk has been on the rise, gaining popularity for its delicious flavor and ease of conversion as a milk substitute. But this year the focus was on expanding the non-dairy craze with macadamia nuts, hemp, flax, coconut and veggie milk. From the classic drinkable milk to yogurts and frozen desserts non-dairy is the move with companies such as Califia Farms, Milkadamia, Go Veggie Milk, Vixen Kitchen, NadaMoo and The New Barn you can't go wrong.
7. Return of the Familiar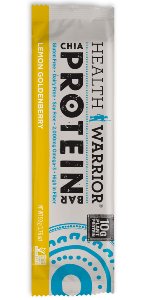 Last year exotic flavors and spices from around the world were the push for consumers to expand their spice drawers and become 'foodies'. But this year the pendulum is starting to swing back to more familiar mediterranean flavors of lemon, rosemary and truffle (but don't worry there is still plenty of spice to go around!) and I am not complaining. These flavors are bright and comforting and easily paired with your other favorite products. You can see this trend in mixed nuts, popcorn, crackers, chips and protein bars. Rediscover the familiar like never before.
8. Alternative Proteins
Similar to the non-dairy transformation, sustainable, ethical and nutrition focused consumers have created a shift for meat-less proteins. But I am not talking about faux-meats this time. Crickets are getting the more exposure than the days of Jimmy Cricket's debut. That's right. CRICKETS. Cultures around the world have been eating these crunchy protein packed bugs for centuries and it's our turn test it out. Crickets are an inexpensive and sustainable source of protein containing 65% protein, more iron than spinach and minimal water requirements, crickets may be the food of the future. But don't freak out… companies like Exo and Bitty Food's are bringing you the benefits in an approachable way through chips, bars and protein powders. Close your eyes and take a bite, your tastebuds may surprise you.